Many writers know how to read comments that have been added to a document in Microsoft Word; however I've discovered that many do not know how to add comments of their own, or remove comments once added. So they add comments by inserting a different color text into the body of the document — a practice that easily introduces errors into the writing — or they leave all the old comments embedded in their "final" versions for someone else to clean up.
Does this situation sound familiar? If so, then read on. In this article, you'll discover the different options available for comments and how to manage them quickly and easily.
Comments Section Appearance
The Comments section of the Review tab looks almost identical on Mac and Windows, except that the comments section is in the middle of the Review tab on the Windows version, and on the far left side of the Review tab on a Mac:
MS Word 2010 (PC)

MS Word 2011 (Mac)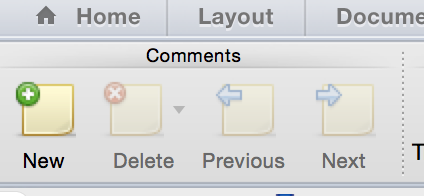 To add a comment to a document
Select a section of text or word that the comment relates to, then press the New Comment button. The text will be highlighted, and a comment box opens in the review pane on the right.
Type your comment in the comments box. Comment colors are set in the Track Changes Options dialogue box. I like mine set to yellow (as illustrated in the Track Changes dialogue box below), but if you're collaborating with two or more writers or editors, you might prefer to select the "by author" option, so that each person's comments are a different color.
You may add to a comment or change it at any time, simply by placing your cursor in the comment box and typing.
To navigate quickly between comments
Click the Previous and Next Comment buttons in the Ribbon.

To delete a comment
Place your cursor anywhere within the highlighted text or in the comment box and press the Delete Comment button.

Alternatively, click the "X" in the upper right corner of the comment.

To delete all comments within a document at once
Select the small triangle below (or next to) the Delete Comment button, and select Delete All Comments in Document.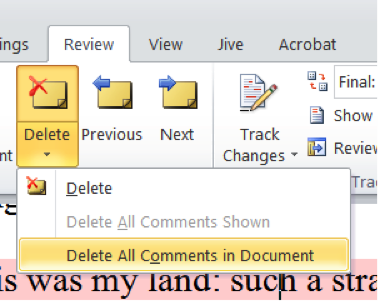 Summing Up
That's really all there is to comments — a valuable tool, whether you use them for yourself or to communicate your thoughts and feedback to another writer.
In Word for Writers, Part 6, we'll finish up the Review Tab with how to manage the Track Changes feature.
___________________________________