A few years ago, I was a devoted reader of Eckhart Tolle's spiritual writings, such as The Power of Now and Stillness Speaks. I never thought Tolle was a particularly good writer, as far as writing goes, but his spiritual approach appealed to me. It still does, though I admit I haven't been as focused on my spiritual life of late. The basic idea is that emotional and mental suffering is caused by resistance; if you focus on being fully present to Now and understand that Past and Future are merely constructs of the mind, you will be able to embrace whatever is happening in the Present, thus eliminating such suffering.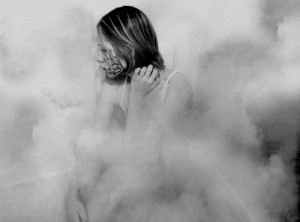 To offer no resistance to life is to be in a state of grace, ease, and lightness. This state is then no longer dependent upon things being in a certain way, good or bad. (Eckhart Tolle, Practicing the Power of Now, page 105.)
The idea of eliminating—or at least reducing—suffering by embracing the Present is not new. Buddhist teachings embody this concept. (Disclaimer: I have not studied Buddhism, and I am making the comparison from a place of limited experience and understanding.) The Law of Attraction, the new-age teachings of Abraham via Esther and Jerry Hicks, and Rhonda Byrne's The Secret, agree that by releasing attachment to what was or what you hope will be and embracing whatever is in your life now, you will not only no longer suffer, you will be more open to and attract positive events and people to you.
It is our absolute promise to you that when you understand the power of feeling good now, no matter what, you will hold the key to the achievement of any state of being, any state of health, any state of wealth, or any state of anything that you desire. (Esther and Jerry Hicks, Ask and It is Given: Learning to Manifest Your Desires, page 4.)
Even Deepak Chopra's fourth law, the Law of Least Effort, outlined in his classic book, The Seven Spiritual Laws of Success, mentions the idea:
This law is based on the fact that nature's intelligence functions with effortless ease and abandoned carefreeness. This is the principle of least action, of no resistance. (p 53.)
Then there's the Gratitude Movement, which helps us focus on and be grateful for the good in our lives in any given moment. The premise is that when you focus on all the things, people, and events that you have to be grateful for, right now, your emotional state takes a turn for the better and you begin to attract even more to feel grateful about. I've tried it; it works.
So when I'm unhappy, discouraged, depressed, or just plain grumpy, if I want to feel better, I have to ask myself what it is that I'm resisting. What am I trying to pull away from or change? What feels uncomfortable? To identify whatever it is I'm resisting and acknowledging all the good in my life (gratitude) are the first steps toward acceptance and peace. At least that's how it works for me.
That's not to say that we shouldn't work to change our circumstances or to right social wrongs; it only means to accept without emotional resistance what's happening in the moment and taking whatever steps we can to effect that change. Easier said than done.
One thing I know: writing about both my points of resistance and what I have to be grateful for usually brings about an amazing change in my feelings and attitude, and has even helped me recognize opportunities for change that wallowing in my pain kept me from seeing.
What about you?
Here are a few journal writing prompts to help you get started writing about emotional resistance, its resulting pain, and other possibilities:
What are the pain points in your life right now?
What are you resisting, and why?
What are you holding onto? How does holding onto that idea or thing serve you?
What's the worst thing that could happen if you release your resistance?
What's the best thing that could happen if you release your resistance?
What do you have to be grateful for in this moment, and how do you feel after you write about your gratitude?
Feel free to share your thoughts and experiences on this topic by leaving a comment.
_____________________________________
Photo by allison