UNDERSTANDING THE STRUCTURE of a memoir, for me, has always been the most challenging part of analyzing a book — partly because there are so many ways to go about it. Structure can be analyzed by timeline, place, theme, types of events, and so on. In the first lines of West With the Night, Markham hints that she will base the structure of her memoir on place:
HOW IS IT POSSIBLE to bring order out of memory? I should like to begin at the beginning, patiently, like a weaver at his loom. I should like to say, 'This is the place to start; there can be no other.'
I decided to approach looking at the memoir's structure in two ways — place and time. It was a challenging and (not ironically) time-consuming approach, but greatly edifying, as it turns out.
Though Markham recounts the memories of important people and events at each place in her life, the timeline of the memoir begins in her adult life, with a flight to Nungwe. She moves back in time to her childhood, and then further back to the founding of the farm on which she grew up. From that point, the memoir moves forward in a more linear fashion to the end.
For this post, I created a timeline of place in West With the Night. Scan below the timeline to see the maps, in which I've numbered the places to correspond with the numbers on the timeline. As Markham focuses on place, she gives very few hints as to time, so some of the years as marked on the timeline are educated guesses, in particular 1912 and 1935.
I have also included a few quotes below the timeline to give context to the places named.
I hope you find this analysis of structure useful when thinking about the ways you might approach structuring your own memoir.
You can click on any of the images to enlarge them.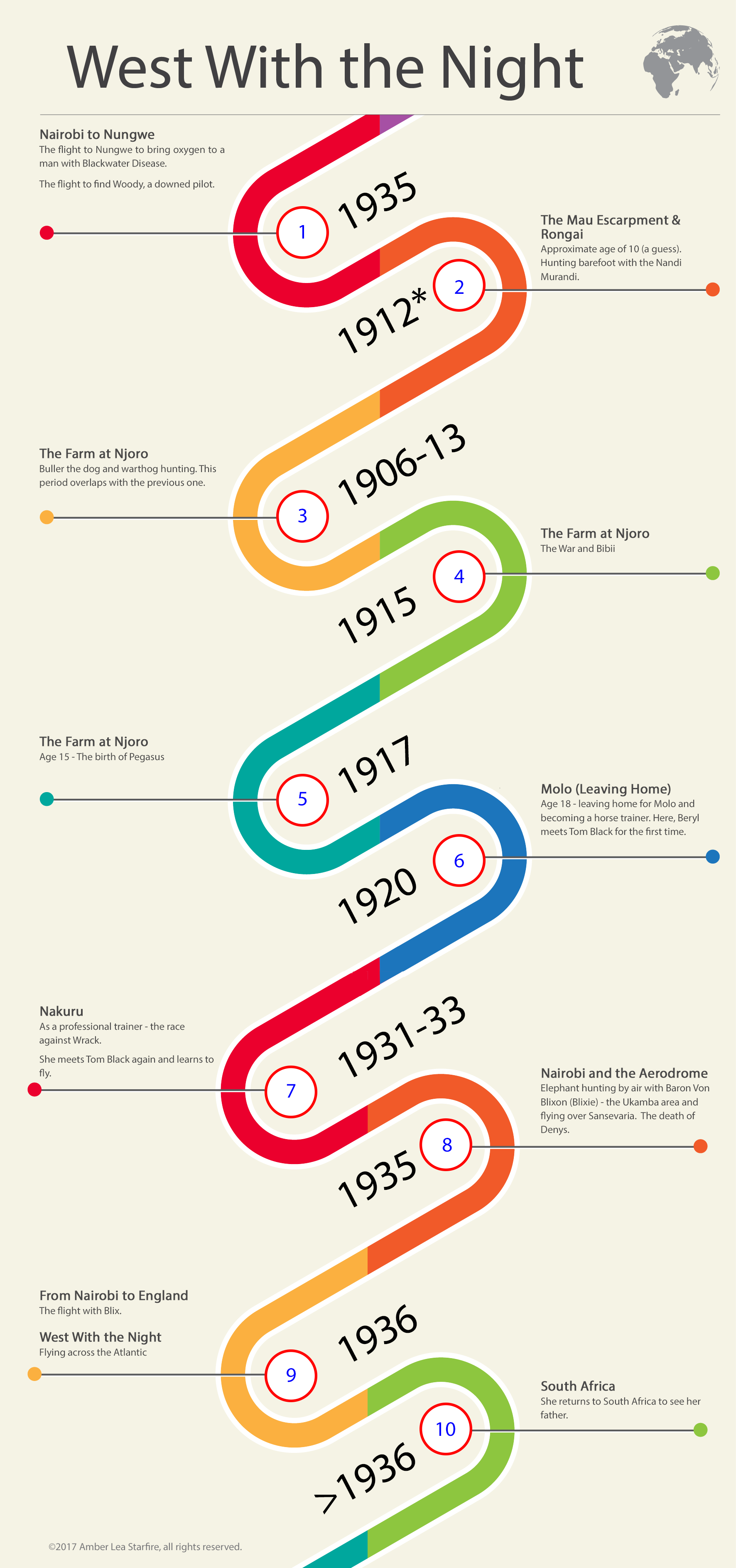 Book One
Nairobi to Nungwe and Finding Woody
Nungwe
I saw no women, no children. Here under the equatorial sun of Africa was a spot without human warmth, a community without even laughter. (p. 22).
From Nungwe through the Serengeti over Rothschild's Camp and onto the Uaso Nyiro River
The country here, except for the narrow valley of the river, is an undulating waste of stark ridges like the surface of water sketched in chalk.
Approximate location where Beryl finds Woody and before flying him to Nairobi.
Between Magadi and Narok I watched a yellow cloud take shape beneath me and just ahead. The cloud clung close to the earth and grew as I approached it into a swaying billow that blunted the sunlight and obscured the grass and mimosa trees in its path.
Book Two
Mau Escarpment & Rongai
WHEN I WAS A child, I spent all my days with the Nandi Murani, hunting barefooted, in the Rongai Valley, or in the cedar forests of the Mau Escarpment. (p. 57)
Farm at Njoro
1915 – still at farm:
The Protectorate fought a frontier war with frontier weapons; it was still dressed in frontier clothes. Boers, Somalis, Nandi, Kikuyu, Kavirondo, and settlers of all nationalities went to battle, when the Empire called, in what they had on their backs when they left the plough, the singiri, or the forest. (p. 100)
–

The days that marked the war went on like the ticking of a clock that had no face and showed no time. After a while it was difficult to remember what it had been like before . . . (p. 102)
Book Three
Molo
The trail ran north to Molo; at night it ran straight to the stars. It ran up the side of the Mau Escarpment until at ten thousand feet it found the plateau and rested there, and some of the stars burned beneath its edge. In the morning the plateau was higher than the sun. (p. 135)
–

There are two others [horses]. I train them in exchange for my hut and stable space. Dull horses, too old and 'handicapped out' but a job's a job. (p. 144)
–

It seems remarkable to me at least that if I had not gone to Molo, I might never have seen New York, nor learned to fly a plane, nor learned to hunt elephant, nor, in fact, done anything except wait for one year to follow another. (p. 150)
Nakuru
The shores of its lake are rich in silence, lonely with it, but the monotonous flats of sand and mud that circle the shallow water are relieved of dullness, not by only an occasional bird or a flock of birds or by a hundred birds; as long as the day lasts Nakuru is no lake at all, but a crucible of pink and crimson fire — each of its flames, its million flames, struck from the wings of a flamingo. (p. 160).
–

My quarters were hardly so elaborate as the hut at Molo had been. By day I lived in a stable I had renovated for my own use, and by night I slept at the very top of the modest little grandstand, built, as was the race-course . . . (p. 161).
Map of Areas 2-8
2 – Mau Escarpment and Rongai
3 – Njoro
6 – Molo
7 – Nakuru
8 – Nairobi

Book Four
Nairobi Aerodrome
My life had been, and was, a physically active life, spent in a country many of whose first settlers still tilled their own fields, and whose aboriginals were imaginative enough and legion enough to necessitate the keeping of a King's regiment in permanent residence at Nairobi, in the outposts, and along the frontiers. Childhood environment had not inclined me toward a bookish existence, nor did flying seem to me, at first, anything but adventure on wings. That textbooks had to arch their ugly backs in the midst of this pretty dream was a mild blow. I had abandoned race-horse training altogether, keeping for myself only Pegasus. (p. 190)
The Ukamba Area / Makindu
ONE DAY, WHEN THE world was many months older, which is to say ages older . . . Things had passed, new things had come. The wonder of my first fledgling hours of flight was lost in the many hundreds of hours I had sat making my living at the controls of my plane. Month after month I had piloted the mail for East African Airways — until that optimistic commercial effort had itself died and been buried under the growing success of Wilson Airways. (p. 197).
–

Land on sansevieria and your plane is skewered like a duck pinned for taxidermy — land in it and walk away. Only not fast, nor far. Rest for a moment; take your time. There are no lion to speak of, and few, if any leopard. There is only the Siafu ant.(p. 200).
–

As to the brutality of elephant-hunting, I cannot see that it is any more brutal than ninety per cent of all other human activities. I suppose there is nothing more tragic about the death of an elephant than there is about the death of a Hereford steer — certainly not in the eyes of the steer. The only difference is that the steer has neither the ability nor the chance to outwit the gentleman who wields the slaughterhouse snickersnee, while the elephant has both of these to pit against the hunter. (p. 208)
Yatta Plateau
The trouble is that God forgot to erect any landmarks. From the air every foot of the Yatta Plateau looks like every other foot of it, every mile is like the next mile, and the one after that, and the one after that. Years of free-lancing, scouting for elephant and flying the mail in Africa, have made me so used to looking for a smudge of smoke that even now I have a particular affinity for chimneys, campfires, and stoves that puff. (p. 225)
At the campsite, where she makes the decision to fly back to England:
I must answer Tom, too. He has written to say that he has entered for the International Air Race from Mildenhall to Melbourne. Eleven thousand and three hundred miles — half around the world almost. England to Australia. I should be in England. I ought to fly to England again. I know the route: Khartoum — Wadi Halfa, Luxor, Cairo, Benghazi, Tobruk … Tripoli and the Mediterranean … France and England. Six thousand miles — only a quarter around the world, and take your time. Well … I wonder. 'Want to fly to London, Blix?' (p. 237)
Leaving Africa – March 1936
A MAP IN THE hands of a pilot is a testimony of a man's faith in other men; it is a symbol of confidence and trust. . . . No map I have flown by has ever been lost or thrown away; I have a trunk containing continents. (p. 245-246).
Flight from Nairobi to England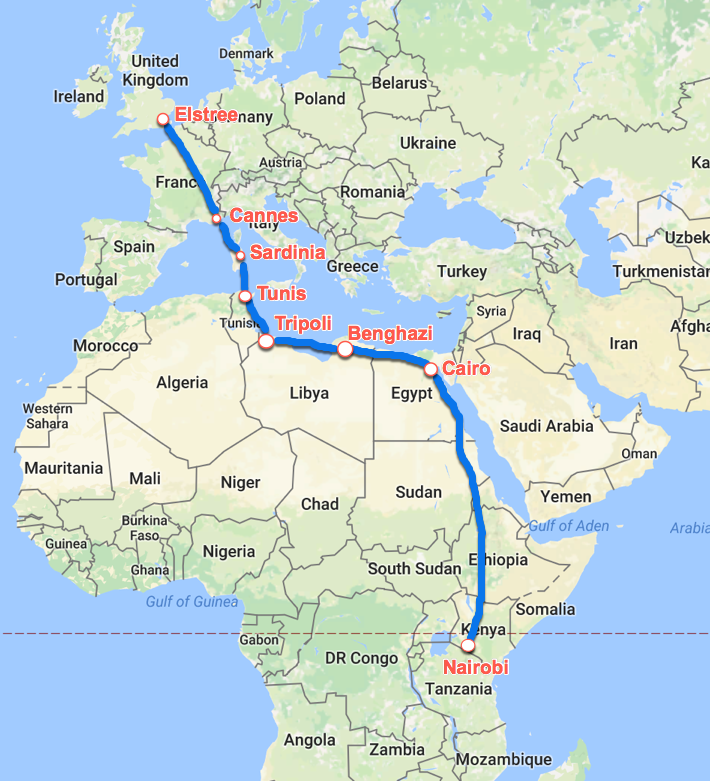 Elstree – September 1936 – the flight across the Atlantic
Flight is but momentary escape from the eternal custody of earth. (p. 285)
–

A lighted ship — the daybreak — some steep cliffs standing in the sea. The meaning of these will never change for pilots. If one day an ocean can be flown within an hour, if men can build a plane that so masters time, the sight of land will be no less welcome to the steersman of that fantastic craft. He will have cheated laws that the cunning of science has taught him how to cheat, and he will feel his guilt and be eager for the sanctuary of the soil.  . . . I saw the ship and the daybreak, and then I saw the cliffs of Newfoundland wound in ribbons of fog. (p. 287)
South Africa to see father
I was going back to Africa to see my father, after an interval too long, too crowded, and now complete; it was the end of a phase that I felt had grown and rounded out and tapered to its full design, inevitably, like a leaf. (p. 292)
–
I would love to hear from you. What do you think of approaching structure analysis this way? What would or did you do differently?
–

Note: This is the final part of our analysis of West With the Night. The first post for our next memoir, This Boy's Life*, by Tobias Wolfe will begin on May 15 — so grab your copy now and join in the next part of this series.