THIS IS THE THIRD AND FINAL ARTICLE IN THE READ LIKE WRITER SERIES, in which I discuss Bruce Springsteen's memoir, Born to Run. Today, I'm exploring how Springsteen structured his memoir and how that might inform our writing.
Warning: this discussion of structure contains spoilers and is intended for those who have already read the book.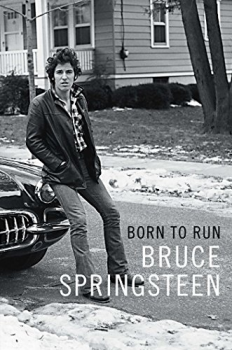 Structure is the framework around which a memoir is built, chapter by chapter. It is what gives the memoir coherence. In Born to Run, Springsteen divides his story into three parts: Book One, "Growin' Up"; Book Two, "Born to Run"; and Book Three, "Living Proof." As a whole, the memoir proceeds in a roughly chronological fashion, and each part has its own theme.
In Book One, he begins his memoir with a focus on and exploration of his home culture. What life was like on his street, in his home, the importance of church, and the mixed Italian-Irish ethnicities of his family and neighborhood. He then gives us an in-depth look at his home life in his chapter, "My Mother."
Truthfulness, consistency, professionalism, kindness, compassion, manners, thoughtfulness, pride in yourself, honor, love, faith in and fidelity to your family, commitment, joy in your work and a never-say-die thirst for life. These are some of the things my mother taught me and that I struggle to live up to. And beyond these . . . she was my protector, stepping literally into the breach between my father and me on the nights his illness got the best of him. (pp. 35-36)
These first chapters are important because they provide a foundation for understanding what comes next.
In "The Big Bang," Springsteen describes (mostly in all capitals) his wakeup call to music when Elvis Presley was televised on the Ed Sullivan show. This was his inciting moment — the moment his life changed and set him on the path to becoming a professional musician.
The next day I convinced my mom to take me to Diehl's Music on South Street in Freehold. There, with no money to spend, we rented a guitar. I took it home. Opened its case. Smelled its wood (still one of the sweetest and most promising smells in the world), felt its magic, sensed its hidden power. (p. 42)
That first time didn't take. Guitar playing was much harder than he imagined, and he returned that rental. Springsteen's second chance came not long after the Beatles made their U.S. Debut. Determined to learn this time, he saves up $20 for a guitar and begins practicing all the major and minor chords along with "as many folk standards as I could."
The rest of Book One covers his teenage years in terms of the band he played in (The Castilles) and the gigs they played, up through getting his first agent and hearing his song, "Spirit in the Night," on the radio for the first time. These were his formative years, musically speaking, and he describes his early struggles and the people and bands who were his greatest influencers.
In Book Two, Springsteen focuses on the next phase of his music career — writing, recording, dealing with agents and recording studios, and performing. He begins this section with his struggle to write and record "Born to Run," which could be considered his breakthrough song, though it wasn't until "Born in the USA" that he really comes into the national limelight. It is in Book Two that the E Street Band and his longstanding relationships with Jon Landau and Clarence Clemmons are born.
The foundation stones of structure in this section are albums and the stories behind them: Born to Run, Darkness on the Edge of Town, The River, Nebraska, Born in the USA, and so on. But Book Two also carries the parallel story of his struggles with intimate relationships, a failed marriage, and his relationship with Patti. It ends with Patti "throwing down the gauntlet," demanding Springsteen make a decision about whether to stay in their relationship or leave.
Book Three: Living Proof begins with the birth of his son, Evan, signaling that the theme of this section is his marriage to Patti and family life — his maturing. The structure of this section is less chronological than the others. After the chapter about becoming a father, Springsteen takes us back in time to when he met Patti in 1974 and then brings us forward in time to the early 90s. The L.A. riots. And his decision to finally get married (he and Patti already have a second child on the way at this point).
In this final section, Springsteen brings the narrative back around to his home, his street, and his father — but with a mature perspective. And he brings the E Street Band together again after a ten year hiatus, which is also a kind of coming home.
In summary, Springsteen writes about the process of writing his story:
I work to be an ancestor. I hope my summation will be written by my sons and daughter, with our family's help, and their sons and daughters with their guidance. …This kind of story has no end. It is simply told in your own blood until it is passed along to be told in the blood of those you love, who inherit it. (p. 503).
Perhaps this is the work and inspiration of all memoirists — that our stories will continue to be told and extended by those who come after.

I hope you have enjoyed this week's article, as well as all of the Read Like a Writer Series this past year. In writing this series, I hoped to help us all become better writers by becoming more aware of the many approaches and possibilities in our writing.
Did you know that Born to Run has been nominated for a Best Spoken Word Grammy Award? You can read the details on Bruce's site: http://brucespringsteen.net/.
Please leave a comment to let me know what you have gained from reading this and the other articles in this series.
And stay tuned for next week's post, which will provide a summary of the year's most inspiring journaling prompts.
---