Life as we knew it is over — at least for the next few weeks.
This was the first sentence in my March 15, 2020 journal entry in what happened to be the start of a new journal. Several months ago when I impulsively purchased it from an artist at a craft fair, I wondered when I'd use it. Unlike the simple spiral bound journals to which I am generally drawn, this one seemed quite out of character for me. Perhaps I considered it only fitting that, with its cheerful yellow batik-like cover and hand-stitched blank pages, it would be a perfect choice to see me through this incongruous time. I was right.
I have, in fact, maintained a journal writing practice for well over forty years. While each one has served a different purpose, depending upon my need to write, a notebook of some sort has always been my silent stable companion. Always available at a moment's notice to listen without interrupting to my rambling recollections and random reflections, I need only to uphold my end of the conversation, which, for me, takes the form of periodic uncensored "free writes." It is also a place where I store an eclectic collection of the quotes and poetry of others whose words resonate with me.
In recent years my journal has also been the repository for quick pen and ink sketches and "word photos" that capture my thoughts and impressions. What I wasn't prepared for during the month of March was how often I would make an entry and how all of my entries would focus on how I was dealing with life during this unprecedented time in recent history. My March 18th word photo entitled Fruit Bowl on our Kitchen Counter was revealing.
The fruit bowl was filled with eight bananas, five apples, and two oranges. Bob starts peeling the Chiquita labels he hates off the bananas as he tells me about his failure to connect to his first Zoom class. I unconsciously join him peeling off the labels on the Gala apples. He smiles at me and says, "What we have control over." I say, "We can work on the price tags on the wine bottles next."
A few days later, Bob's Suffolk classes via Zoom were proceeding with relatively few glitches. However, while we might have taken the price off a bottle of wine or two or three it was not because we were having dinner with friends. Since mid-March it's always dinner for two at our own dining room.
Forefront in my mind during the first few days of March was how to develop strategies and routines to help me cope with this crisis. In addition to free writes, word photos, and pen and ink sketches, I also made lists such as the following one on March 21 based on tips from The New York Times.
Have a structure to your day.
Get dressed and look good.
Don't binge watch TV.
Eat regular meals.
Count your blessings.
Take a walk.
WASH HANDS…WASH HANDS …WASH HANDS
Find indoor "amusements" – board games, jigsaw puzzles, crossword puzzles, and other hobbies
Despite my best efforts to have a reasonable structure to each day, it was still a challenge to keep track of what day it was as revealed in my March 24 free write entry.
When will it finally occur to me that I'm not going anywhere? Today I have a writing group meeting and when I woke up I thought I'd be heading to the LCC even though I should have remembered we'd scheduled a ZOOM meeting. After taking a shower, I even picked out a sweater that would be presentable (purple one with the quilt pin) before I realized I could attend the meeting in my bathrobe and no one would know.
Another word photo entry on April 18 entitled A Snowy Saturday reinforced the challenge of keeping track of time.
The forsythia is laden with snow this morning and our picnic table is covered with at least three or four inches. Now in addition to not quite knowing what day it is, it's going to be hard to remember what season it is especially since Bob started whistling "Winter Wonderland" as he was making his coffee.
If there is a slight silver lining to this "new life" it is the fact that I have been much more open to, and in fact thankful for, the various ways that technology has allowed us to keep in touch with family and friends.
I am getting to be a fan of FaceTime! We check in regularly with Ted and Shannon and their little pup Gardy. Yesterday we had coffee with Betsy and Drew at 1 pm after our Sunday morning brunch of waffles and sausages. (That's how we knew it was Sunday.) At 7:30 we met with Tom and Maxine in San Diego for wine and then there's Zoom! It's hard to believe that we boomers have become zoomers.
And finally, this David Hollis quote found its way into my journal for safe-keeping and sums up how I am feeling as April nears its end —"In the rush to return to normal, use this time to consider which parts are worth rushing back to."
Something tells me we're going to have a lot of time to ponder this thought.
---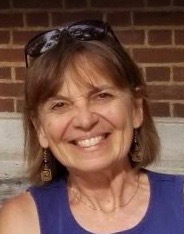 Irene Hannigan has always made writing a part of her daily routine as a parent and educator. She is the author of Write On! How to Make Writing a Pleasurable Pastime, A Principal's Journey: The School as My Classroom, and Off to School: A Parent's-Eye View of the Kindergarten Year.
---
Note: This essay is part of Writing Through Change, a series of posts and guest articles about life and writing in unsettled times.