THIS MORNING, I was happily nosing around in the back yard, checking to see if my latest veggie plantings were thriving or if everything was watered sufficiently. I even potted a flowering plant in a pot I decorated myself — with mosaic tiles (a ten-year project).
As I moved the hose from one place to another, my husband said, "You do realize your shorts are on backwards, don't you?"
And so they were. It was the ultimate confirmation that I may not have the virus, but I'm suffering nevertheless.
Following are some of the reasons for my suffering, and I know I should say how grateful I am that none of us has the virus and that none of my extended family has it, or my friends, and I have plenty of toilet paper (if this thing ends in two weeks) and a 50-pound bag of rice thanks to my friend, Bev, who works at Costco. For all those things, I am profoundly grateful.
Here goes:
Last Monday, our refrigerator died. The first repair guy (from the Russian mob) told me he couldn't touch it because it was still under the manufacturer's warranty and I needed an "authorized" repair person to fix it.
He also informed me that if I didn't get all that food out of it, it would start to smell. He even suggested we cook all the food in the freezer and have a big party. I guess he forgot we were in the middle of that darned pandemic.
For his sage advice, I was charged $55. He was in our house for maybe five minutes. He looked delighted to find he couldn't work on our fridge. I imagine a perfect day for him would be $55-a-minute service calls and not having to work on a stinky refrigerator on any of those calls.
We called an authorized repair person from Sears. A very nice man named Juan came the next day and said it was the compressor — a $1,000 part still under warranty — but it had to be ordered, of course, and they couldn't come back to install it for another week and a half. As luck would have it, Memorial Day weekend was looming and no work could be done at this time.
The next day, my husband was cleaning up his office and shredding documents when the shredder shut down. He worked on it for awhile in the garage and then sensibly put it out on the curb, along with the broken doggie gate, a s'mores maker, and an old sheet. Someone picked up every item by 5:00 pm that very day.
To think my daughter scoffed, "No one is going to want a broken-down shredder that's torn apart." How little she knew.
On Saturday morning, that same daughter walked onto the back patio where I was enjoying coffee and my new book on my Nook tablet.
She said, "I hope this doesn't make you cry, but the shower head just fell out of the wall. The pipe is broken, and it's lying on the shower floor now." I cried just a little bit.
The next day, while I was reading that new and fabulous book on the Nook tablet, it wouldn't let me "turn" the pages. A weird message came up: "Sorry! Activity Reader (in application Reader) is not responding. Pick a box: Wait or Force Close." Any ideas out there as to what that means?
Bottom line, it means my Nook tablet doesn't work anymore, and I was right in the middle of an important plot twist.
Back to our refrigerator problem.
Our daughter bought a mid-size fridge to get us through this stressful period. Actually, she ordered one from Home Depot on a Wednesday. They said it would be ready for pickup that day but to wait for their text. She called them a few times, and they kept saying "We'll let you know when it's ready. We're very busy right now."
The next morning, she did get a text. It said, "Your order has been canceled." Hmmm…not by her.
On Thursday, moving on, she found another fridge at another Home Depot and we were able to pick it up that day. All four of us went: Larry, Janet, Maddy and I. It was an outing for us! Funny how excited one can get about picking up a small refrigerator in an old dirty truck during a pandemic.
We've been surviving using our ice chests — one large, one small. We had an ice chest on the back porch, then brought it in because it was so hot out, then took it out again because it was leaking. Janet has made dozens of trips for ice. We've "borrowed" space in her sister's freezer, but there's not much room.
Every day I go to the old fridge and open the doors (not working), then to the ice chest, wherever it isn't, then to the recycle trash bin (which I had moved to another location to accommodate the ice chest), wherever it isn't, then to the garage where the new fridge is. Inevitably, I forget where something is or what I wanted in the first place.
Also on Monday, the same day the refrigerator died, our landline phones were cut off. I was transferring from Spectrum to AT&T, but the transition wasn't supposed to happen until midnight, and then we were supposed to wait a couple of days to make sure it was working before we canceled Spectrum.
AT&T sent me messages and emails saying our equipment would be arriving soon. What equipment? We were changing the phone line. When I called them, the customer service rep told me how to get it going, but our phone line didn't fit into the new AT&T modem.
She didn't understand anything and had no notes in our file to tell her what was going on, so she transferred me to someone in a foreign country. Our connection kept fading in and out, and anyway, I couldn't understand her accent, and she couldn't understand me.
I ended up telling her goodbye and that I was too tired to deal with any of it any more. I had already been on the phone for a couple of hours.
She said they would call me the next morning. They never did. And that's a good thing because — remember? — I could not understand her and she could not understand me.
I guess we won't have a landline any more, and maybe we just don't need it. It is nice to not have the constant stream of calls from scammers.
Of course, my cell phone is old and not holding a charge, so I'll probably have to purchase a new one.
It's no wonder I put my shorts on backwards this morning.
The End
P.S. Our printer doesn't work either. I had it "fixed" last week, and it worked for about one day. I did find out my computer has many international IP addresses, including one from the Russians. I KNEW they were behind all of this.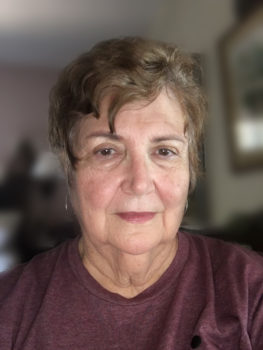 Jeanie Miller is a 77-year-old woman, which, she says, is very hard to put down and see in writing. She is married with two daughters and one grandchild, and currently transitioning from dyed to white hair. Jeanie worked on and off — mostly secretarial/administrative assistant jobs — from the time she was eleven until she was 62, when she retired early to look after her parents. She says she didn't really start to write until she was in her sixties, but always had stories running around in her head. Read more of Jeanie's writing on her blog: notesfromthequeen.blog
---
Note: This essay is part of Writing Through Change, a series of posts and guest articles about life and writing in unsettled times.