DO YOU READ EBOOKS? If so, do you use many of the features ebooks offer, such as highlighting phrases and passages you like, creating notes about your impressions, searching for key ideas, and bookmarking? I know I do.
These are useful tools for research — or simply for thoughtful reading. And one area in which ebooks have it over print. With print, you can highlight text and write notes in the margins to your heart's content, but, unless you transfer everything manually to a notebook or computer, finding those passages when you want them becomes a trial of flipping through pages searching for content. Ebooks, on the other hand, allow you to access all your annotations through the menu in your ebook reader — in one place.
But, what if you want to transfer your ebook notes to a paper or article you are writing? Do you still have to go through a manual transfer-to-notebook process? Happily, the answer is no — at least for Kindle and iBooks. (I'm not sure about Nook. I don't use it, but in my web search didn't find any answers. So if you know of a way to export your Nook notes, please tell us about it in the comments section.)
How to Access All Your Kindle Highlights and Notes
Within the Kindle application, you can access and export highlights for the currently open book. It is slightly different for each device (i.e., computer, Kindle, iOS), but the process is essentially the same.
On the Kindle or on a mobile app, tap the top of the screen to show the reading toolbar.
If you're on a Kindle device, tap Go To, select the Notes tab, then the Yours tab.
If you're reading on the computer or mobile app, select the Notes icon. (On the computer app, the notes icon is always present in the left sidebar.)
If you're reading on a mobile app or on your computer, select the Share icon to export. On the computer app, the notes will export to an html file. On a mobile app, you can choose to export to email or flashcards.
The Notes and Share icons on Kindle for Mac (steps 3 and 4)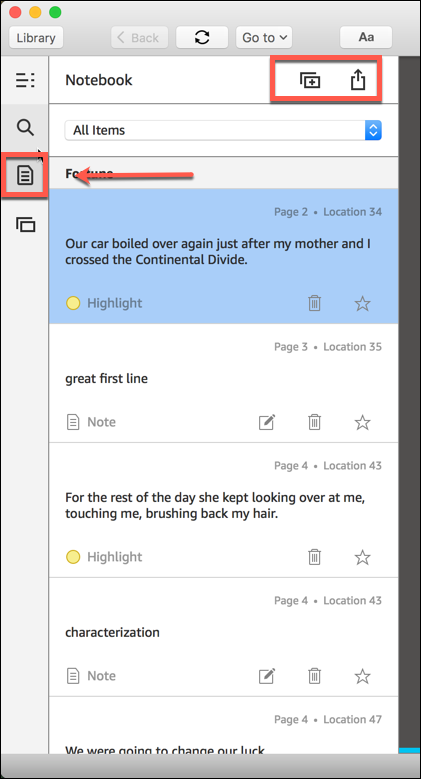 The Notes icon on Kindle for iOS (Steps 1 and 3)

On iOS (step 4)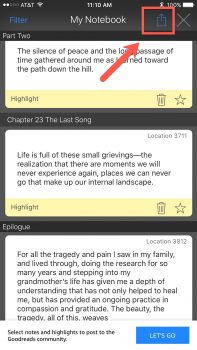 Export to annotations to flashcards or email.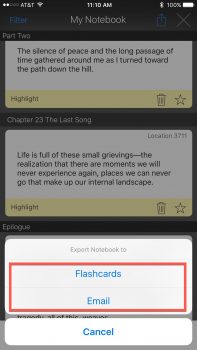 Pretty simple, right?
On the Web
Here's where reading using a Kindle really gets exciting. Did you know that you can access all your notes for all your kindle books in one place on the web?
In your web browser, go to https://read.amazon.com/kp/notebook and, if necessary, log in using your Amazon username and password.
As you can see from the following screen capture, all your books and all your notes can be accessed in one place. You can:
Search for any book or document in your Kindle library
Select the book for which you want to view the notes.
Scroll through all the highlights and notes, and then, optionally: copy and paste into a separate document, open in Kindle, add notes, and delete highlights.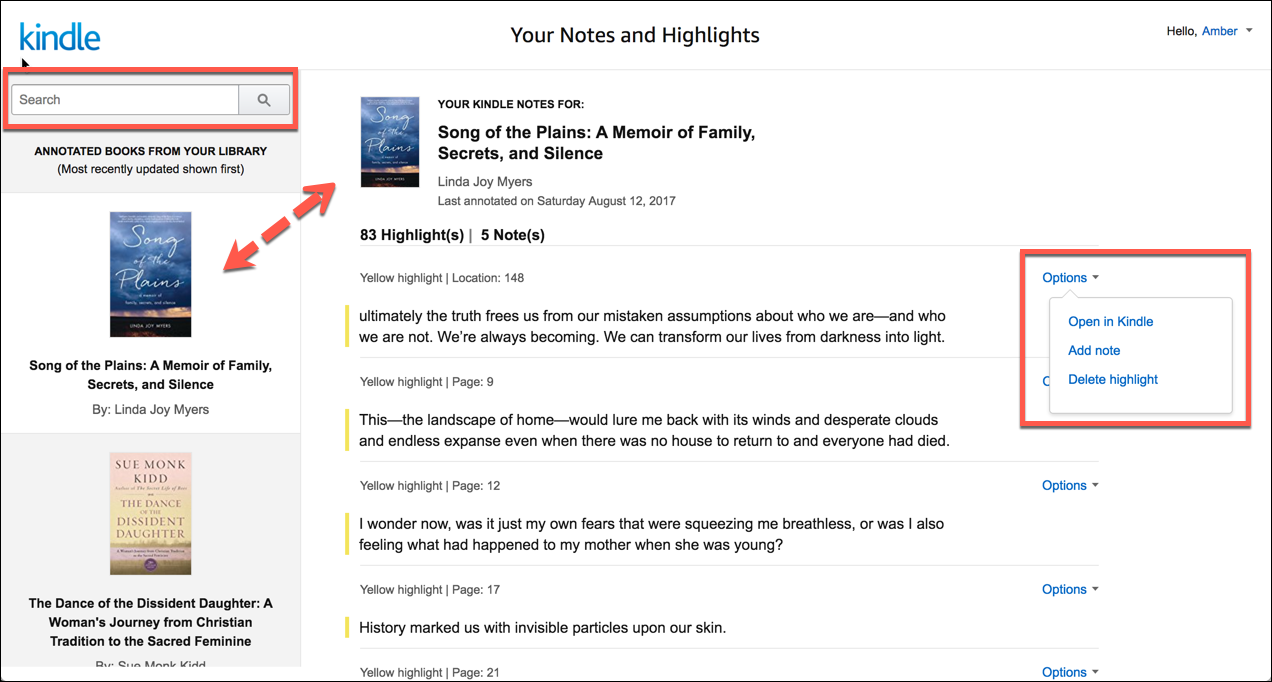 How to Access Your iBooks Highlight and Notes
In iBooks you can only access your notes in individual books within the application. (While you can access and copy and paste individual notes on the computer version iBooks, there isn't a way to export or share multiple notes, so if you want to export notes, use a mobile device.)
To access and export notes from your iOS device:
Summary
How a person prefers to read, whether it's print or ebook — Kindle, iBooks, Nook, Kobe, or any other reader — is entirely a personal preference. In my mind, however, Kindle has the other readers beat when it comes to availability of apps on all devices, flexibility of use, and features. In particular, the ability to access all my notes on all books in one place on the web has made research and study so much easier that, these days, I vastly prefer ebook to print.
---
How do you use your ebook highlights and notes? Do you use a reader other than Kindle or iBooks? Please share your thoughts.
---