WRITING REQUIRES WRITING TOOLS. Sure, those tools can be as simple as a notebook and a pen or pencil, but for many (if not most) of us, our writing tool belt also includes word processing, note-taking, and journaling applications, as well as programs that assist with other writing tasks from structuring a novel to editing.
In 2012, I switched from using a journaling-only app to Evernote and have never looked back. And though I've written about Evernote's features and advantages several times over the years, I felt I could go a bit deeper and demonstrate why and how to use it.
Evernote's Advantages
Evernote is a robust application and completely cross-platform — working the same on every type of device and syncing your work automatically between devices. 
For those of you who worry about others reading your journal, it's both secure (you have to use a password to sign in) and online, so you'll never misplace or lose what you write.
It's free. In the basic, free version, you can sync across two devices and upload 60 MB of data per month. If you're just using Evernote for journaling and note taking, that's plenty of room.
You can include pictures, voice recordings, videos, weblink, links to related journal entries, and so on.
If you prefer to write by hand, but want to store your journal entries securely, you can scan or take a picture of your handwritten entry and add it to your Evernote journal.
You can print out all your entries on a monthly, quarterly, or yearly basis and store them in a binder if you wish. I do this yearly and keep my binders in my storage unit, "just in case." (Just in case what, I have no idea.)
All your entries are can be in one place — one notebook — from year to year. No more multiple notebooks of different sizes and shapes to store on bookshelves (or to hide from prying eyes).
Your entries are completely searchable and tag-able. Want to know how many times you wrote about a particular topic last year? Do a quick text search of your notebook. Then narrow your search by date or any other criteria. This is a wonderful way to uncover patterns in your life and a big help when writing memoir.
In addition to the free version, there are two paid levels. I pay for premium because I have thousands of notes and use Evernote to organize and store just about everything in my life, including recipes, emails, and documents. It also allows me to annotate PDFs, etc. — but you may not need all those features.
I've pasted the feature comparison here for your convenience.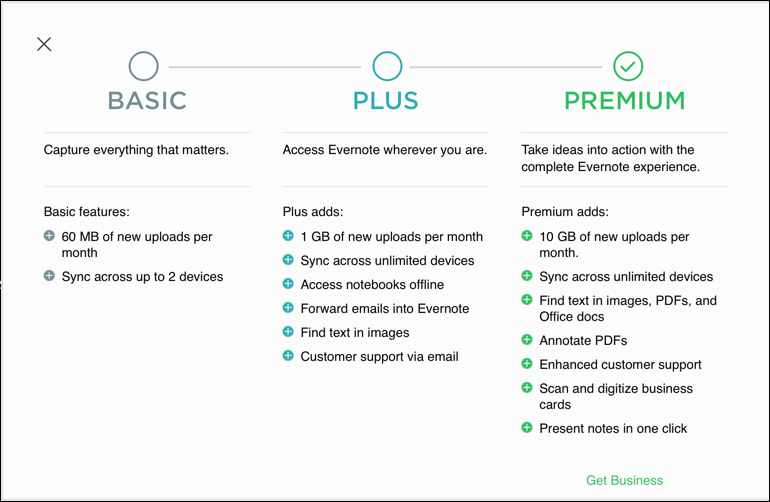 So, now that you know why Evernote is such a great tool, I'll show you how to use it for journaling.
How to Create Your Evernote Journal
If you don't already have one, create an Evernote account and download the application to your computer or mobile device. (You can use Evernote online, but having the app on your device allows you to work offline as well.)


–

Add a new notebook and title it "Journal" or whatever you'd like to name it. You can create a notebook for each type of journal, but personally, I like to use one journal and simply tag my entries.


–

Add a new note and begin writing — this is your first journal entry.


–

Title the note. Some people recommend including the date as part of the title, but I don't because Evernote automatically dates each entry. I usually just give my entry a title that expresses the overall mood or topic of my writing for that day.


–

Each note is a new journal entry, just like a new page in a physical notebook.


–

Once you've created your journal notebook and at least one entry, under the

View

menu, select Sort by Date Created, Newest First – so that your newest entries will always sort to the top.


–

Add a new note and explore the different features, including formatting, adding pictures, audio recordings directly from your device, tables, attachments, and so on.

Use Templates
Templates are easy to create and useful to guide different kinds of journaling, such as book journaling, gratitude journaling, or keeping track of goals. Here's how:
Add a new notebook and title it "Templates."


–

Inside the Templates notebook add a new note and create headings or topic areas you want to include.


–

To use your template, simply copy it to your journal notebook. Because it's easier to show than explain, I've included the following short video to demonstrate how it works.
I hope this has been helpful to get you started.
Feel free to ask questions or share your experience with Evernote in the comments.
---
Note: I am not an Evernote affiliate and receive no compensation if you choose to purchase a paid account.