IT WAS TIME to launch my second memoir, Accidental Jesus Freak, into the world, and I wanted to do it right. When I published Not the Mother I Remember in 2013, marketing had been an afterthought, and I wanted to make a much bigger splash with Accidental Jesus Freak. And I hoped that with this book launch I would also launch myself into a new level of author success.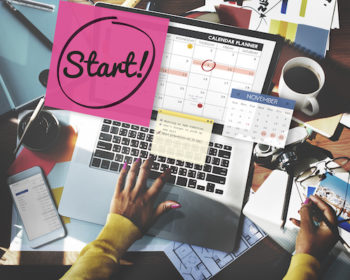 I created a launch schedule, which included dates for creating book web pages, sending out pre-launch and launch announcements to my email lists, scheduling a launch party and reading at my local bookstore, booking a *blog tour, engaging my "street team," doing pre-launch book giveaways, and so on. I did everything myself.
But I felt overwhelmed by the sheer number of tasks. I had a full-time job that restricted my availability for marketing efforts, and there were some areas of marketing that I wanted help with — promoting to news media and radio stations, for example.
So, I looked into hiring a book marketing agency. I had been on the Author Marketing Expert's (AME's) email list for quite a while and was impressed with their website and blog, written by owner Penny Sansevieri. I also liked the tagline: "We specialize in turning authors into success stories with innovative, personalized book promotion strategies and publicity campaigns." That sounded good to me, so I contacted them.
Now, no marketing company worth their salt promises to sell a certain number of books, and I knew this going in. What I wanted was someone with some marketing expertise to make my book more visible — to give it buzz — and that is exactly what Penny said she would accomplish.
She guaranteed that they would get my book "in front of the right people for your genre and topic at the exact right time to ensure you're making the most of your promotion."
Marketing through the agency would cost a LOT of money — pretty much most of the money I had been squirreling away to invest in my business, so I thought long and hard and talked with several people before making a decision.
In the end, I thought, Nothing ventured, nothing gained, right?
I signed the contract and sent the check (gulp). Then, I did everything the agency asked. I sent them an ebook version so they could read it and know how to market it, and 10 print copies to give to reviewers. I answered a series of interview questions. With the help of members of my critique group, I put together and gave them a list of every local news publication, radio, and TV station.
What the agency promised to do
Pitch local print media, TV, radio, and national book review outlets.


–

Pitch 25 blogs for their feature, review or interview consideration in markets for women's interests, memoir, and women's lifestyle.


–

Assess and optimize my Amazon book page by defining the right keywords and categories to give my book more visibility. This part of the service included an Amazon giveaway of 10 ebooks and recommendations for improving my Amazon author page.


–

Conduct a "Signature Red Hot Blog Tour," which, wondrously, didn't require me to write any posts or interviews. The agency said they used a strategy called "high PR backlinks," guaranteeing engagement and live posts on 15+ blogs. That sounded great.


–

Provide 10 honest book reviews (guaranteed).

Here's what I experienced
The media pitch
Just before my official launch, AME sent me a list of all the media outlets they had pitched. Except for the national book review outlets, all of the media companies listed were the same ones I had given them.
Hmm…
I heard nothing back. Nada. Not one news outlet, not even my own local newspaper nibbled. I thought, What kind of expert marketing company can't even get a nibble from a small town local paper? I asked to see a copy of what was pitched to the media, but was told it was "proprietary." Huh? How would I know if they were pitching the book correctly — or even sending pitches at all? "Trust us," they said.
A few weeks later, I received a request from an obscure internet-based radio station in Canada. The show host wanted to interview me to discuss a couple of well known feminist writers. My book was not the focus but I could mention it. I did the interview, which went well, and I was able to talk about my memoir and why I had written it. But the episode never aired.
The agency finally sent me two potential media leads with interview questions that were all related to the #MeToo movement. Questions like: "What has been the practical effect of the #MeToo movement on high school and college campuses?" And, "Are young men increasingly seeking clear permission before any physical contact with a prospective partner?"
How am I supposed to know? I'm not a #MeToo or education policy expert. Yes, I've had my #MeToo experiences, but that's not what my memoir is about. It's about religious fundamentalism and patriarchy and giving oneself up for love and growing up during the 70s — not sexual assault or abuse or anything like it.
And I wondered again, How on earth is AME pitching me?
The blogger pitch
I was also sent a nice long list of bloggers AME had pitched. I had one request for an interview and one request for a copy of my book from a blogger in Australia. That was it.
As time went on, I began to suspect that no one at the agency had actually read my book. And since I wasn't allowed to see the content of the pitches, I had no idea what they were promoting.
The Amazon "Optimization + Assessment Package"
I had been under the impression that AME was going to optimize my book page for me. But, no, instead I received a list of keywords so broad they were laughable, and some boilerplate advice for how to improve my Amazon page — advice I could have gotten for free from lots of places. Advice that Amazon offers on their "how to" pages. Not advice that was customized for my page and my profile.
AME did provide me with a list of possible Kindle search categories. I think I used one of them.
The Amazon Giveaway.
I had provided money for the agency to purchase 10 Kindle copies, which they used to set up an Amazon giveaway. No marketing of the giveaway occurred as far as I know (I guess I was supposed to do that). I don't even know if anybody signed up for the giveaway or won copies of the book.
The "Signature Red Hot Blog Tour"
It turned out that this "tour" consisted of one of AME's assistants leaving comments on book review bloggers' sites, something to the effect of, "Hey, you should read Amber Lea Starfire's new memoir, Accidental Jesus Freak. It's great!" The idea was that these comments would engage readers and promote awareness of the book.
They left 16 such comments and sent me a list with links to the blogs where the comments had been posted. Several of the links didn't work at all. And only a few of the blogs' content was relevant to my book. "Conversations" were nonexistent.
The book reviews
I did receive 10 book reviews for Accidental Jesus Freak on Amazon, which did help the book get more visibility the week of the launch. Since these book reviews were the only tangible benefit I received from hiring a marketing company, I reckon each book review cost me somewhere around $400.
And finally, the kicker
After the official promotion ended, I never heard from AME again. No one followed up with me to ask how the promotion went or if I was satisfied with the service rendered. That was it. And I didn't bother to contact them to let them know how I felt. I guess this post can serve as my feedback.
Lessons Learned:
If someone else is going to pitch your book to the media, insist on being a part of the pitch process, and approve the copy before it is sent. Ask to see the schedule for follow up and read the follow-up copy. If they are good at what they do, the copy should be compelling and generate responses.

–

Do schedule

a conventional blog tour. Fortunately for me, I had also booked a conventional tour, during which I wrote guests posts and interviews and conducted book contests and giveaways. It was a lot of work but helped me gain buzz for my book.


–

If you decide to hire a book marketer, do your research.

I did some, but not enough, apparently. I recommend making sure it's someone you know you can trust and/or you know someone personally who has used them and can vouch for the quality of their services.


–

My biggest lesson is this: book marketing rests on the shoulders of the author, and success is directly dependent on the author's efforts. Thinking about hiring a marketing company to promote your book? You're probably better off hiring an assistant to help you with your marketing tasks and doing it yourself.
In the End
Although this particular book marketing adventure did not work out as I had hoped, and I wish I'd spent that money in other ways, I'm glad that I took the risk. One of the lessons I have learned about marketing, in general, is that you need to be willing to experiment, try new strategies, and yes, invest money in those strategies. You need to be willing to fail and build on that failure to succeed. And also to leverage the marketing strategies that work.  For example, I have been using Amazon advertising successfully for a little over two years now and have gone from selling a few books each month to selling a couple hundred. That doesn't make me rich and famous, but it demonstrates that successful marketing takes work, time, and — often — money.
I'll be posting an article or two about my Amazon advertising experiences in the near future. Let me know in the comments if you're interested in such an article or have book marketing experiences of your own to share.


* During what I am calling a "conventional blog tour," your book is promoted across various blogs during a set amount of time, ranging from a week to a couple of months. The dates are scheduled in advance, and you "visit" each blog by writing a guest post, answering interview questions, and/or providing a book synopsis and excerpt. The content you provide for each blog is unique. The blogs may also conduct contests and book giveaways. You can do all the research and scheduling for a blog tour yourself, but there are a number of blog tour services that will do the organizing for you for a reasonable fee. (Google "blog tours" for lots more information.)
** A street team is a group of fans who happen to love what you write and act as ambassadors for your books. They will do things like read pre-release copies of your books and post reviews, promote your book to their friends on social media, add comments to online conversations about your book, etc. It's word-of-mouth marketing.
---