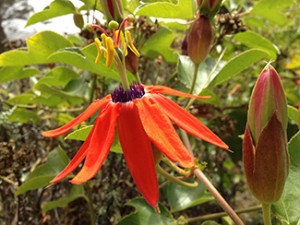 This weekend I attended The Sun magazine's annual writers' workshop, "Into the Fire" at Esalen in Big Sur. Having been to one of these workshops four years ago, I anticipated the weekend as eagerly as a child anticipates an Oreo cookie–imagining twisting it apart, licking out the luscious filling, then biting into the crisp chocolate biscuits before finally licking the crumbs from my lips.
If you have never been to Esalen, it's an experience I highly recommend (see link to virtual tour of Esalen at the bottom of this post). Think spiritual center on a cliff at the ocean's edge in Northern California: ocean waves and breezes and salty air; hot spring baths; yoga and dance; unbelievable meals made with love, fresh-farmed, and just-picked ingredients; and all the time you need to write, ponder, meditate. There's more. Too much to write here, because that's not the point. The point is that I want to share some of my workshop experience with you.
The workshop began on Friday night with a welcome orientation and readings by the workshop presenters: Chris Bursk, Frances Lefkowitz, Alison Luterman, and Cary Tennis (saving Sy Safransky's for our final meeting on Sunday morning).
Saturday, we had our choice of three workshop sessions in three strands–Essays, Memoirs, & True Stories, Poetry, and Fiction–as well as a two hour writing session with prompts such as those used for the "Readers Write" section of the magazine.
Saturday morning arrived in style with a 6:30 a.m. soak in the outdoor hot springs baths, the sky and sea changing color as the sun rose over the tips of the eastern hills. Feeling loose of limb and spirit, I attended a Chakra Meditation session, followed by freestyle dance movement. All this before breakfast, which was a sensory delight all its own with choices of fresh baked breads, homemade jams and butters, grains and oatmeals, fruits, juices, soft and hardboiled eggs, yogurt, and coconut, coffees and teas, on and on ad infinitum. From there, I launched myself into the writing sessions, where instruction and writing time was balanced with story sharing and feedback. It was a full day, and yet there was time for connecting with other writers, watching the sunset, and breathing deeply of the fresh, salt air.
On Sunday morning, we were asked to freewrite about our weekend using the prompt, "What happened was…" Here is what I wrote:
What happened was… a mix of people touched one another's minds and hearts through writing, conversation, and shared meals.
What happened was my usual way of being: shyness and reservation overruled by a voice that won't shut up even when I think she doesn't deserve to speak, even when I think everyone else's writing is so much better. What happened was that I couldn't go to sleep at night and so lay listening for long hours to the soothing white noise of the ocean and staring at the strange abundance of stars out my window; I pulled myself out of bed in the morning to let hot sulphur baths restore me to sanity.
What happened was that several times each day, groups of writers crowded into rooms and wrote, pens scratching, fingers tapping, energies reflective. We shared our deepest hopes and fears and longings. We shared our stories. And not just in the writing rooms, but also at the dining table, in the baths, and along the garden paths.
What happened was a renewal of spirit and of purpose, getting away from what is to slide between layers of time to what will be. And we've all been successful, one way or another, whether we know it yet or not.
_______________________
Now it's your turn. Thinking about your weekend, freewrite for ten minutes, beginning with "What happened was…"
I invite you to leave a comment and share your response.
_______________________
_