IF IT'S BEEN A WHILE since you sat down to write, I can relate. Like many other writers I know, I have what I call "fallow periods" during which I don't write. Times when my writing energy or motivation is low and I flounder, feeling at a loss for creative direction. It's not writer's block exactly; more a case of writer's ennui — a restless, listless, lack of creative energy. I might journal sporadically and write a few blog posts, but I'm not working on anything that feels meaningful.
Fallow periods typically occur after completing a longer piece or publishing a book. Launching and marketing a book can drain you and reduce "cognitive space" for creative work. Or maybe you got stuck in the middle section of a memoir or novel and don't know how to get going again. After a while, you know it's time to get back to writing — but you don't know what to write. Or you may have a backlog of ideas but don't feel motivated to begin any of them.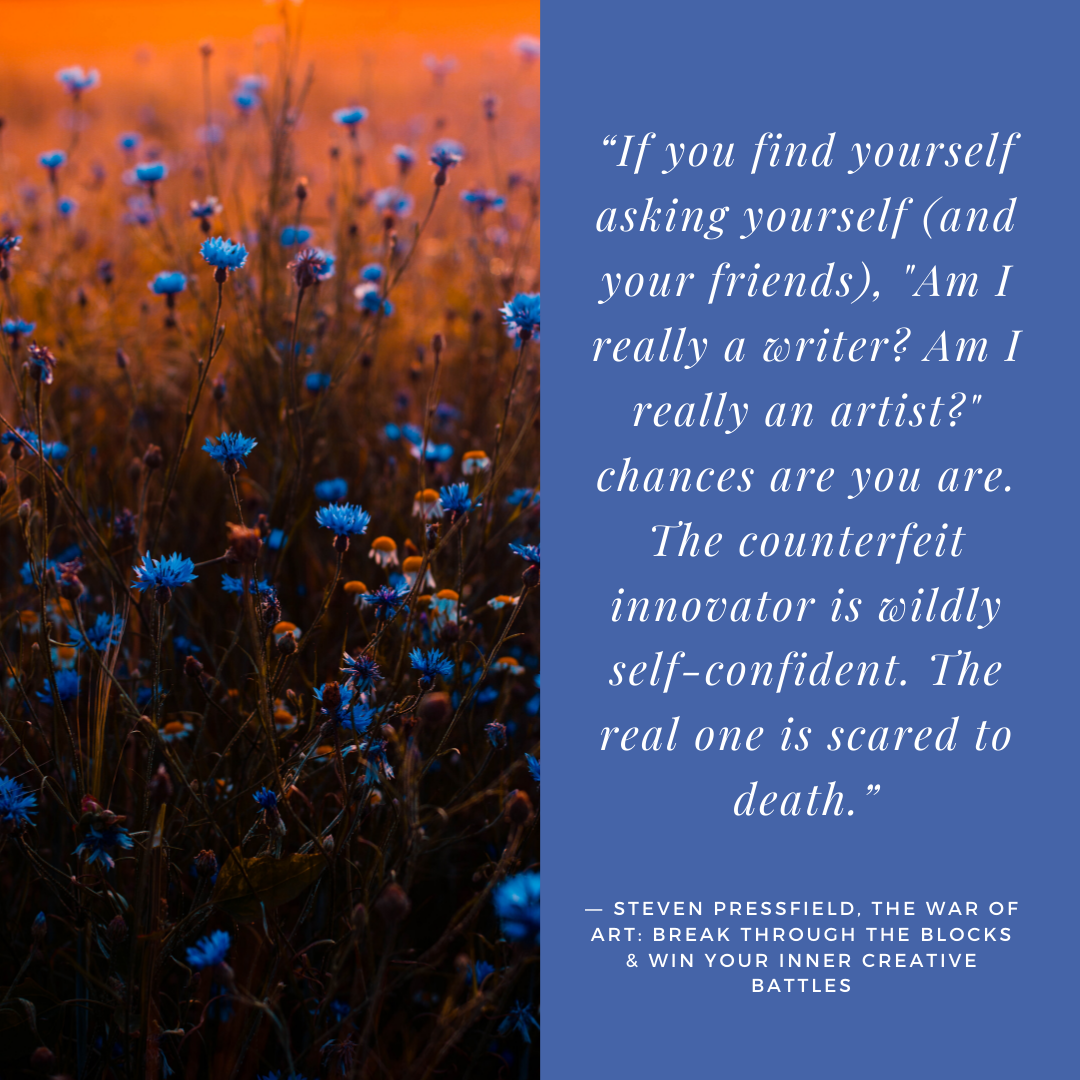 And when these fallow periods last for months, it can be discouraging. Enough to make you question whether you're really a writer at all.
So how do you get inspired to begin writing again?
That's a trick question. Because, the truth is that you do not need inspiration to write. Let me repeat: You do not need inspiration to write. The idea that inspiration is the source of motivation is a fallacy.
It's desirable, of course, to feel inspired, and useful to get into a flow state. But it's not necessary to write or even to write well.
To write, you need intention and discipline. You set an intention to write, and then you sit down and begin writing. You may write badly, you may write well, but you are writing and that is what counts — especially if it has been a while since you wrote.
When you resume the habit of writing, inspiration will follow.
Here are a few actions that can help you get started again.
Use your imagination – Close your eyes and visualize yourself writing productively. Imagine printing out pages of new stories or chapters. Imagine sharing your writing with others. This might seem silly, but studies have shown that visualization improves performance. And, in this case, it can help you get into a more positive frame of mind about your writing.


–

Write a narrative about the reasons you started writing and why you want to continue. Besides acting as a writing prompt, it's a good way to remind yourself who you want to be and get that motivation mojo activated.


–

Set a daily writing goal. Make it small: 15 minutes, 100 words, 50 words. Make it so small that you have no excuses for avoiding it. Mark a daily time on your calendar — preferable the same time each day — during which you will write. Set an alert to remind you. Then, when it's time, sit down to write. Just do it.


–

If you're stuck on what to write or the blank page terrifies you, write badly on purpose. ("It was a dark and stormy night.") Lighten up, have fun, and make fun of your serious writer-self in the process.


–

Change writing environment. Sometimes, just shaking things up and getting a different perspective can help. If you normally write alone in a quiet space, head for a local coffee shop or restaurant. Write in the park or at the library.


–

Use an app to prevent electronic or social media distractions. There are a number of applications out there that will help you avoid distraction by blocking social media sites and time-wasting applications according to a schedule you set. The one I use is called Focus. It's a paid app, but most have free trials available if you want to try out the concept before you buy.


–

Reward yourself for writing. Each day, after you've reached your goal, whether it's to write for a certain number of minutes or words, reward yourself. Read a book. Take a walk. Have a small treat. Whatever makes you feel good. Pairing something you want with your writing will help you integrate writing into your daily life.


–

At the end of your writing time, make a note about what you want to work on the following day. Then, the next day, when you sit down to write you already have your intention in mind.


–

Finally, keep an idea notebook and jot down ideas as they come to you. When you need a new topic, review the ideas you've collected. Something will resonate as a prompt to get going again.
Fallow periods and writer's ennui happen. They are a natural part of the writing life. But don't question yourself as a writer or give in to fear or depression. When you know it's time to start again, set your intention, and use some or all of these methods to get back in the habit of writing.
---