Guest post by Sarah Cummings
YOU'VE PROBABLY had the experience of sitting down to write — and nothing comes to mind. Even for someone who journals every day, there will be times when your mind feels as blank as the page before you. Other times you may have several ideas to write about, but aren't sure which is the most important to you. Don't fret too much about this. Even the greats struggled from time to time with what to write. The important thing is finding a way to work through your writer's block. Some find spending time outside or in nature is helpful. Others enjoy reading or looking through old photos for inspiration. But if even after your usual methods of brainstorming fail, there's still another great place to find both inspiration and personal insight.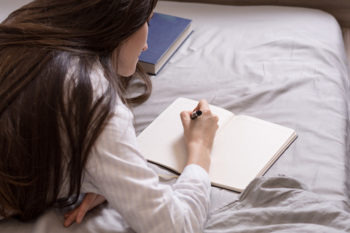 Dream journaling is one of the best ways to tune into yourself and your *creativity. This is because of why we dream. While why we sleep and dream is still the subject of some speculation, scientists are pretty sure that dreams help us process information. At night, our brains take time to store, categorize, and make meaning of what we experienced and learned during the day. One of the main components of this process is connecting different ideas; synthesizing new information in this way is the basis for creativity. Whether you're an author trying to write a book, or simply trying to come up with a unique way to solve a problem, you will need to make new connections between disparate ideas to succeed. Paying attention to your dreams can help you become aware of the connections you are making unconsciously as well as give you insight into your natural creative process.
Your subconscious mind also uses the time while you are sleeping to figure out which information is essential and which is forgettable. You can learn a lot about your own state of mind and interests based on what you dream about. While most dreams may not make a lot of sense, taken as symbols they can begin to provide real value. Who you dream about can tell you about what you admire and want to emulate in a person. What kinds of dreams you have, whether they are stressful or freeing, can reveal unconscious problems and desires in your life.
If simply having dreams is helpful, how does writing about them improve the experience? Many people don't remember their dreams. Focusing on dreaming — or at least remembering your dreams — can strengthen those pathways in your brain that drive recall. Your subconscious is easily influenced. By writing your dreams down, or even speaking them aloud to someone, you encourage your subconscious to save more of those dreams to your permanent memory. This, in turn, encourages your brain to strengthen the processes that connect different ideas to forge new ones, enhancing creative thinking.
If you already journal daily, adding an additional step may sound overwhelming. However, just like developing a regular journaling habit, dream journaling will become a habit in no time. It's a great way to slowly wake up and create a moment of peace in your mornings. Try keeping a notebook or journal next to your bed and writing whatever you remember down as soon as you wake up. Even just a few details scrawled on the page about the images, colors, and feelings in the dream could be helpful. This practice will not only enhance your creativity and self-awareness in the moment of writing, but these notes can also be a resource to draw upon in the future.
The next time you find yourself staring at your blank journal page, unsure of what to write about, you can go through your dream journal and expand upon any ideas, memories, or people that your entries bring up. Click here for more information about dream journaling and dream interpretation, as well as some great downloadable templates to get started.
---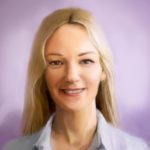 Sarah Cummings writes articles for the Sleep Advisor. She says, "My hope is that everyone who visits Sleep Advisor will walk away with a fresh perspective. I think too many people downplay the importance of sleep. In my opinion, it's the difference between an average life and an amazing one."
---