TODAY, I'M EXCITED to share my email interview with Catherine (Clemens) Sevenau, author of an extensive and well-written online memoir serial, titled Through Any Given Door, and two published books: Behind These Doors: A Family Memoir, and a series of memoir essays, Queen Bee: Reflections on Life and Other Rude Awakenings. (The title alone provides a sense of Catherine's good-natured and humorous approach to life.)
I contacted Catherine because I wanted to post a series of interviews with local memoir authors in the Napa-Sonoma region where I live, and I was curious about her memoir serial — what initiated it and what that experience has been like for her.
Interview 
AS: When did you start writing memoir, and what initiated it for you?
CS: My writing began with a short piece called, "Queen Bee." The story reconnected me to my family and opened up conversations we'd not had. I wanted to know more about my mother, as I'd lived with her for only five years of my childhood, so I had a reunion. There, I wrote down all the stories told to me about her and our growing up, And then, through interviewing more family members, I collected others. I joined a writing class with Stephanie Moore in 2001, and for the next five years worked on the stories every Monday night. What I thought would be a few vignettes turned into a memoir.
I only planned on writing this for the family; I'd no intention of being a published author. It took me five years to write the book, and due to a family upset I put it on the back burner for five more years. Then I picked it up again and spent another five years on it, then two years to publish it as an online web series.
AS: Who are your biggest literary influences?
CS: Nancy Drew, the backs of milk cartons, the dictionary, and an untold number of great memoir writers. Also Julia Cameron, Angeles Arrien, Stephen Levine, Jack Kornfield, and Anne Lamott. My favorite book is To Kill A Mockingbird.
AS: Is there overlap between Through Any Given Door and your smaller published memoir, Behind These Doors?
CS: Yes, Behind These Doors is 20 stories pulled directly from the full memoir, Through Any Given Door. I took a break from editing the full book (this was before I decided to do it as an online serial) and wanted to record a portion of the stories, so I did the smaller version in tandem with the recordings.
AS: What made you decide to do the web serial?
CS: As I'd self-published Behind These Doors and Queen Bee and saw how challenging it was to create a wider market — and also looked at the expense — I decided to not go through it a third time. An online serial was more work, but the only expense was the editing. The book was an organizational mess so I could fix and re-edit one story at a time. I posted one story every three days, which offered me instant feedback. The great thing about having it online is I could make corrections or include more details. It also allowed me to include a ton of pictures.
AS: Did you write and edit it in entirety before posting, or did you post as you wrote it? As a follow-up, if you posted it as you wrote it, did you have it outlined first?
CS: I was writing stories for and about my family as they came up, and in no particular order, so it took a bit of unraveling and reweaving. I wrote and rewrote and rewrote the whole book, then put it in some sort of order, had it completely edited, and then fine-tuned everything as I posted. It was easier one bite at a time. I did not set out to write a novel, so I had no outline. 
AS: What was that serialization process like, and would you do it again in the future?
CS: Serializing was easier than trying to organize the entire book, as I could edit and rearrange a story at a time. It also glaringly pointed out stories I needed to tie together and others I needed to eliminate where I'd repeated myself. It was far more manageable. Even if I were to do another online series, I'd write the whole book and then break it down, mainly because I couldn't keep track of the overview if I wrote and uploaded one story at a time.
AS: Tell us a little about Queen Bee and what prompted you to write it.
CS: My second book, Queen Bee, was a compilation of pieces from the memoir, some historical family stories, vignettes about my grandchildren, one about a dog, and the rest were rants and ramblings. I grouped them in corresponding sections as sets of short stories. It was another sidebar as I wasn't ready to get back to the original memoir. Writing and working on it was often not easy, and sometimes I needed a break.
AS: In general, what is your writing process like? Are you a pantser or a planner? Do you write according to a schedule or according to whim, etc.?
CS: I'm a by-the-seat-of-my-panster. I write according to whim, either in the morning or late at night. Sometimes I write all day, other times I don't write for a week. However, I'm often writing in my head. I have a day job, thank goodness, or I'd never leave my home office computer chair.
AS: Is Tintype publishing your imprint? (i.e., did you self-publish?) Either way, tell us a little about your publishing process.
CS: Yes, I was originally doing historical family research and came across a number of tintypes from prior generations, hence the name. Everything I've done is self-published, other than a few short pieces published by historical societies and a number of them in Syndic, an online literary journal called. And for the past two years, I've had a monthly column in our local newspaper, the Sonoma Sun.
I knew nothing about self-publishing, so I got some coaching, read articles and books, and joined BAIPA, the Bay Area Independent Publishers Association. Their monthly speakers were invaluable to my process.
AS: What are you working on now?
CS: Finishing posting the online series of Through Any Given Door, which I've nearly completed. The book ends with the death of my mother when I am age 20. Then what? I've no idea. Perhaps a traditional publisher will come across it and think it's worthy. My astrological chart—done years back—said the book would be made into a movie. Then I'd get to relive it all again . . . arrgghhh. But having the story grow legs and take off would be fun.
AS: If you could give one piece of advice to beginning memoir writers, what would that be?
CS: Take the long view; avoid being a victim or take what happened to you personally. It's not the place for payback if you were badly treated.
AS: Is there anything else you'd like to share?
CS: Don't get your feelings hurt if your family or friends aren't interested. If you're writing a memoir to be published, you'll want a wider audience anyway. And hire an editor, no matter how good you think you are! You want another set of eyes to correct your spelling, repair your grammar, and ask questions when your stories don't connect or make sense. And finally, don't think your family is going to be happy that you're writing about them. If they are, you've probably left out the best parts. My siblings no longer tell me stories, as they know I'll put them to pen.
---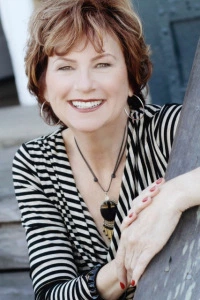 Catherine (Clemens) Sevenau is an irreverent humorist, astute storyteller, and family scribe. The author of two books, Queen Bee: Reflections on Life and Other Rude Awakenings (2016); and Behind These Doors: A Family Memoir (2014), Catherine reflects on her journey with levity, courage, and grace. Her kaleidoscope of frank and tender tales are about sin and prayer, good intentions and unattended sorrows, and about finding the way back home. She is a weekly blogger and monthly columnist for the Sonoma Valley Sun. 
P.O. Box 1206, Sonoma, CA 95476
www.sevenau.com
www.facebook.com/CSevenau
csevenau@earthlink.net
---