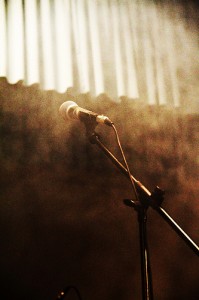 In my class on "Finding Your Voice," I define a writer's voice as "… the who (the personality) you hear in your imagination while reading or, conversely, the who your readers hear in their minds when reading your work." While a writer may evoke a number of different personalities through the characters in her stories, the personality I am referring to is intrinsic to the writer herself — not simply an artful application of style and tone, though these are certainly aspects of voice. I believe every writer has a distinct voice, though expressed in different genres, like that of a singer who finds expression through different types of music.
Some singers are very good at mimicking others' voices. Writers are like that, too. We may mimic different voices to express different characters, or mimic other writers to hone our craft, but when we want to express something from deep within ourselves, our own true voices emerge.
Where does this "true" voice come from?
I've been pondering this question for some time. Recently, I attended a workshop in which communication styles were distilled into two major categories — Directive and Supportive. While this is only one of many methods of analyzing the ways in which people communicate, I found myself wondering, Are our communication styles embedded within our personalities, our DNA, as an immutable aspect of our individuality? Can we change our basic communication styles if we want, or are we just who we are?  Would it be possible for me to become a contemplative, think-before-I-speak kind of person? Or is my straight-forward just-give-me-the-bottom-line way of being part of the bone structure of my personality? And are these communication styles the basis of our writing voice as well?
For sure, my general communication style must be part of my writing voice. I'm direct. For me, the mouse always runs up the clock; it never meanders. And yet, writing also helps me slow down, find my contemplative mind, focus on the sensory world outside myself. Using words, I can express myself in ways I find difficult when speaking. I can design the trajectory of my thoughts. I can think about the impact of my statements. I can be lyrical, mindful of the rhythm and sound of words as they roll one into the other and over the tongue.
Writing forces me to think before I "speak." It is a kind of excavation of my soul, a slow and methodical digging, brushing off the skeleton and artifacts found buried deep within the hard packed soil of memory and life experience. Perhaps, it is  through this very excavation process that my true voice can be found and brought to life through stories and poems.
And perhaps that is why finding our voice is such a nebulous, difficult process. We must become the archeologists of what is hidden deep within our selves; when we finally find and unearth the bones of what drives us to write, we also find our voices, the signatures of our expression.
What do you think? Is a writer's voice part of who he or she is, intrinsic and formed just as a singer's voice is formed by physical structure and honed by training? Or is voice something we can create and wear like clothing?
_________________________________
Photo by Tom81115