LIFE IS BUSY, it seems there's never enough time for everything, and other responsibilities tend to crowd out writing — that thing we say we love and want to do most.
If you have difficulty accomplishing your writing goals, have trouble getting organized, tend to procrastinate, or simply feel that you don't accomplish enough, the following 7 steps, when done on a regular basis, are guaranteed to help you write more, as well as make it easier to accomplish all of those other things that mean the most to you.
1) Make (and keep!) a to-do list.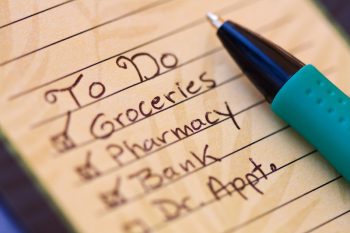 It seems simple, and it is, yet making a list is an important step that many people ignore. You want one master list, not twenty small lists that can be stuck in pockets and lost. Start by brainstorming and write down everything you can remember that you need to do. If you're using paper for your to-do list, be sure to leave space between items so that you can write down related tasks for each item as you think of them.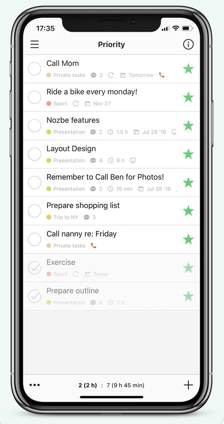 If you prefer technology, you can use a notepad, reminder or project/task app. I use and highly recommend *Nozbe. (I know, it's got a really strange name, but it's an awesome app that helps you track projects and their multiple tasks.)
Don't worry about the number of items on your final list — you might have 50, or you might have 10. It doesn't matter.
Do it now. It only takes 10 minutes.
2) Make the list manageable – decide what's important.
Look the list over and circle the two or three things that are most important to accomplish that day — no more than three. In an app, you can categorize by priority. Identify items you can complete in five minutes or less.
For a hypothetical example, the three most important things on my list include: 1) writing this week's blog post, 2) my dentist appointment, and 3) complete a major editing project for a client. I also have several other items on my list that can be accomplished in five minutes or less: check the status of book advertising efforts, respond to client e-mails, open and sort mail, water the houseplants, for instance.
3) Break high priority tasks into smaller, manageable sub-tasks that you can do in 15 minutes or less.
If any of the items on your list will take more than 30 minutes to accomplish, break them into manageable sub-tasks.
In my example, I need to write an 800-word article for my blog. I can break that down into six sub-tasks: 1) list the main points for the article, 2) write a paragraph explaining each point, 3) write opening and closing paragraphs, 4) edit, 5) copy to WordPress, and 6) Format, proofread, and schedule. Each of these sub-tasks will take no longer than 15 minutes and can be accomplished, if necessary, over the course of a day or a week. I won't feel pressured to sit down and do it all at once.
Once you have prioritized your list, you need to keep it visible. If your list is on paper, put it someplace you'll be able to access throughout the day and that will be easy to refer to: your pocket or purse, or post on a bulletin board or refrigerator. If your list is digital, set reminders at appropriate times throughout the day.
4) Use every available minute.
This is where having everything broken into 5-15 minute jobs begins to pay off. In my case, while I'm at the dentist's office, I can use my cell phone to respond to client e-mails. I can also jot down the main points of my article, to finish later, when I'm in my office. And I can make phone calls between projects, or any time I need a break from what I'm doing.
5) Cross it off & shed the extraneous.
Whenever you complete an item, mark it complete. Not only does crossing things off help you to stay on track, it's enormously satisfying.
Each time you cross something off your list, decide what you will do next. Then, ask yourself the following questions:
Can someone else do that task for you? If so, take 5 minutes to delegate, and then cross it off.
Can you decide not to do it at all? Sometimes, tasks we think are important when we make our list become unimportant in the context of the day. If you don't really need or want to do that task, cross it off and consider it done.
6) Save the best for last
For every task you don't want to do, reward yourself with something you do want.
This step is the secret to conquering procrastination. For each item you accomplish that you really don't want to do, you get to do something you want. Again, in my hypothetical example, let's say that I don't really like talking on the phone, and I don't want to spend time discussing who's going to bring the turkey and the salad for an upcoming family gathering. I mean, there are more important things on my list, right? But, I can reward myself for getting that phone call out of the way by journaling for ten minutes — something I really love to do.
7) Assess your progress and repeat, starting at step 2.
Each evening, before you sit down to relax, or before you go to bed, review your list. Acknowledge yourself for everything you got done, even if you didn't accomplish as much as you wanted to. Then, you can either use your same list or rewrite the list, adding new items that may have come up during the day.
You'll start your next day at step 2, with a fresh list, and fresh motivation.
When you feel stressed and things seem to be coming at you faster than you can respond, write them on your master list. Then, follow steps 2-7. In a very short time, you will have accomplished more than you ever thought possible, and you may even have enough time to reward yourself with an evening out. Your friends and family may want to know how you accomplish so many things. If you're feeling generous, share this article with them.
---
What's most important for you to accomplish today?
---