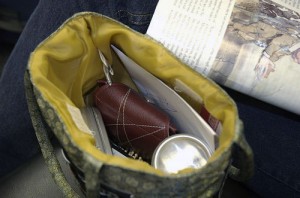 THIS WEEK'S writing prompt on womensmemoirs.com by Promptly Portland is a fun one for  journal writers, so I thought I'd piggyback on it.
If you love to write and you're a woman — sorry guys — and you haven't yet checked out this informative website, I highly recommend it. In fact, I like it so much that my weekly guest blog, with a focus on journal writing, begins August 7th.
Anyway, in her article, Promptly (I'd love to know what her real name is) asks us to look in our wallets and think about what we carry around with us and why we do so. I won't repeat the post, because you can read it for yourself, but I thought it would be interesting to expand on it a little and also to use the concept for some reflective journaling.
What do you carry in your purse or wallet? Is it full of practical items, or are there things, such as photos, that are meaningful to you in some way? I, for one, tend to be rather practical — my purse is full of things like eyeglass and sunglass cases, keys, tissue, lip gloss and bandaids, my wallet (just money, credit cards, and driver's license), my phone and my iPad. So, at first glance, there's nothing there to write about, really.
But then I think: my photos are all on my phone and iPad. I used to carry conventional photos around with me, but they were always out-of-date. Now I can take many more with me that are current. Woe to the poor soul who asks if I have pictures of my grandchildren with me! My iPad replaces the paper notebook and books that I always used to lug around, so I have ready access to places to write and read and think.
I can take any one of the items hidden within the technology inside my purse and make it the subject of Portland's wonderful writing prompts: how is this (picture, person, document, record) important to me? Who/what are they in my life and who would I be without them/it? It's a grand subject upon which to ponder. Would I really be "me" without my grandchildren? Well, yes, but there's that part of me — the Nana part — that wouldn't have expression in this world. And you know what? She's really the playful part of me. I like her.
It will be worthwhile for me to take some time and journal about this topic — the important people in my life and who I am as a result of my relationships with them.
Will you join me?
Photo of Purse by:
mbostock
____________________________________________
Let's keep the connections open! To participate in BlogTalk, write a post related to this topic and post it in your blog, with a link back to Writing Through Life. Or leave a comment below with a link to your blog. I'll visit your blog for a future BlogTalk article.