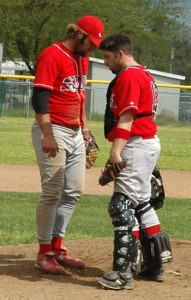 I HAVE WRITTEN about ways to deal with your inner editor/critic, ways that apply to journal writers and creative writers alike. Today's post is about how journaling can help you connect with your inner guide, or coach, and is inspired by Mari McCarthy's blog post, in which she gives some great advice about how to connect with that inner part of you that encourages and believes in you.
A good coach will not only offer encouragement, but he or she will also build on your strengths and push you beyond what you thought you could do to new levels of achievement. And guess what? We all have that well-qualified coach living within us, the only person who really knows all about us — our desires, our abilities, where we are now and where we could be in the future.
If you have a tendency to minimize your abilities or feel negative about your future, journaling conversations with your inner coach will raise self-confidence and help you have the courage to take steps to achieve the life you long for. Even if you don't tend to be negative and are already confident, your inner coach can help you focus and achieve more.
So how do you have conversations with your inner coach? Just like conversations with another person in real life. I like to use a question and answer format when I journal.
For example, let's say you'd like to take a class but you're not sure you're ready or have the time or the ability.
So you write down the question: Is this class for me? Will I succeed? And then you close your eyes, pen poised, and imagine that you are sitting across from the wisest, most accomplished coach in the world — yourself — and listen.
The coach might answer: You have all the drive and ability to succeed in this class. I think you should take it. If you're nervous about it, I suggest that you email the teacher and find out more about it.
Or the coach might answer: You have the ability, but remember that you just took on that new responsibility at work and you promised your son that you would go with him to all his soccer practices, so I suggest you hold off until spring. In this example, the coach has given you good advice and encouraged about your abilities to achieve.
The practice of having conversations with your inner coach is fun, encouraging, a way to sort out issues and problems, and so effective it can be downright habit-forming.
Next time you journal, try having a conversation with your inner coach. I invite you to leave a comment to let us know how this process works for you and whether you have any advice to offer other journal writers.
____________________________________________
Let's keep the connections open! To participate in BlogTalk, write a post related to this topic and post it in your blog, with a link back to Writing Through Life. Or leave a comment below with a link to your blog. I'll visit your blog for a future BlogTalk article.